As a cannabis patient and advocate, there nothing quite like a trip to a fantastic dispensary to tickle your fancy. Plant, tinctures, edibles and oils of every shape and size fill the shelves, old favorites next to newcomers, begging you to take them home for a try. But too many connoisseurs experience the flip side of this – a long wait to get checked in, followed by iffy looking products with little variety and questionable testing.
Let's face it, not all cannabis is the same and not everyone is committed to creating a superior product. And most of us have little time and energy to hunt down the products we like from dispensaries on a monthly basis.
 But if you are a cannabis aficionado looking for a high end variety, look no further than Club M. As a monthly members only club, ClubM seeks to the strike the curation balance of premium cannabis products you may not know about yet along with those you've come to know and love. Club M takes pride in offering its members a consistent selection of high quality cannabis you would find in a top dispensary to your door without any of the hassle. Consistent, branded, and well labeled the club, which sends its beautifully packaged curated selections with full product descriptions and brand insights has been a hit with the high end cannabis community.
We reviewed the May collection, aptly named "Grace," and was completely delighted with the variety and quality of the brands included:
Hepburn Pre-Rolls : Hepburns have been a personal favorite of mine for a while now so nothing was better than seeing a pack of 5 solventless ice water Kashmir Kush (indica) hash joints made with sativa dominant whole flower. 
Potter's Cannabis Pink Champagne vape 70%+ thc, with battery
Potters Pink Champagne was new to me, but its going on the must have list. The taste and flavor profile was impressive, and the insights on this globally conscious, forward thinking company were enough to make me look them up. What's not to love about that? 
Breez MInts x 3
These cool little mints have been around for a while, but 3 tins of them in the box are nothing to sneeze at – especially the Royal 100mg THC, which I will definitely save for a special occasion. Perfect for on the go imbibing in situations vaping or smoking aren't allowed, and tested to ensure dosing (a concern for anyone who has ever had a bad experience with a mislabeled edible!)
Just Herb Artisan Flower ⅛ Jar – Headband (3.5g)
There's just something about good flower, and Just Herb doesn't disappoint! Real, no frills, high quality flower is what you can count on every single time! Their mission to maintain integrity in the industry is as inspirational as their product. Headband is a classic cross of OG and sour D and was a perfect way to unwind from the busy week!
Cordial Organic Tinctures (Balance & Unwind)
If you haven't tried a tincture before Cordial is a fantastic place to start. Every bottle is made with love from the Cordial gals and I swear --- you can tell! Perfect in your favorite hot or cold beverage -- directly under your tongue for quick absorption. Its great for consumers looking for new ways to imbibe, a bit in tea before bed led to a restful nights sleep! Two bottles were included:
Balance (60mg thc by VOL):
A blend of Indica and Sativa with a hint of mint. It's a low dosage remedy, perfect for someone that needs to take the edge off and prefers not to be knocked out by a high dose of THC.
Unwind (375 mg thc by VOL):
Crafted with Indica and ingredients that have been chosen with the utmost care for those of you that deserve to Unwind.
Overall, the Grace collection, valued at over $290, felt like a steal at the $97 monthly price – and made me feel like a kid in a candy store when it arrived on the doorstep. It may not be for a consumer who only ingests cannabis in one way, but if you are looking to experiment and discover all that cannabis has to offer – it's a fabulous find!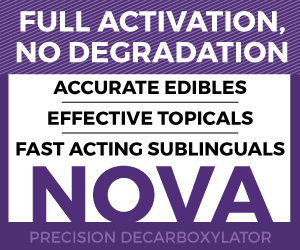 ---
---
Leave a comment
Comments will be approved before showing up.